DISCOVER THE BEST OF CANNED WINE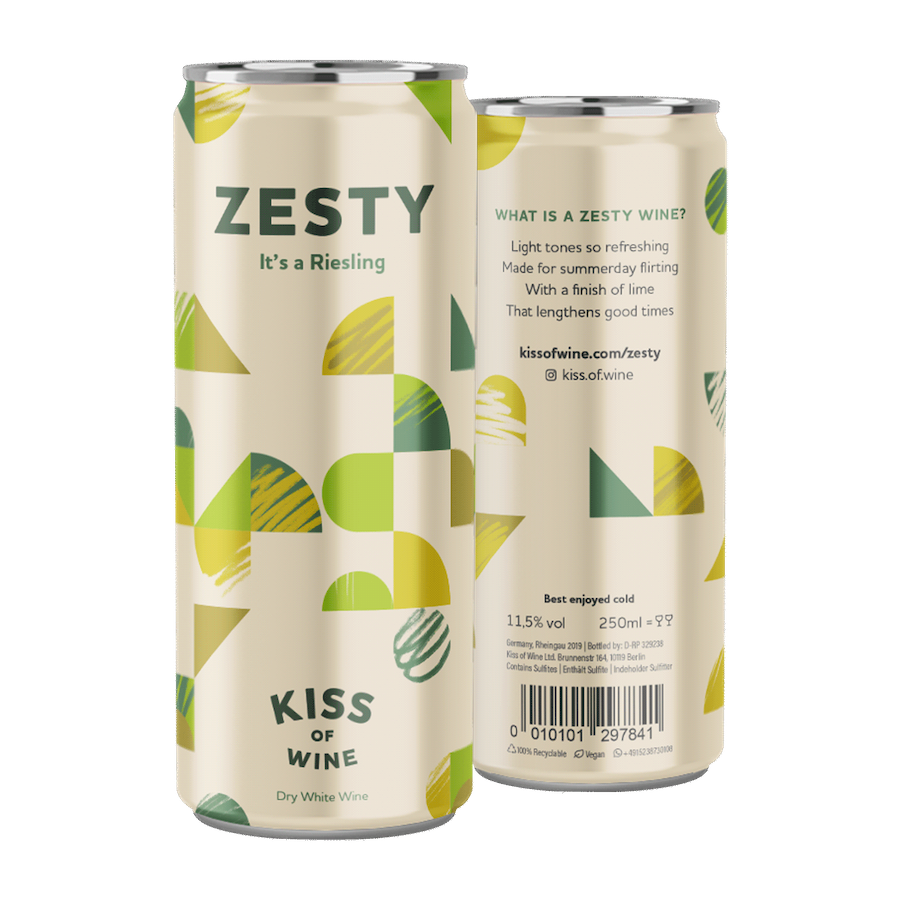 'ZESTY' RIESLING, RHEINGAU, GERMANY
Brothers Christoph and Thomas are sustainably led winemakers producing outstanding Riesling from its home in the Rheingau. The brothers have very particular methods when it comes to caring for their vines and adopt 'vine wellness programmes' to ensure the best fruit is grown. The Rheingau region sits on the River Rhine, which creates a microclimate for vineyards.
Zesty is Christoph and Thomas' best selling wine. It is what everyone wants from a dry Riesling and does not disappoint. The grapes for this wine come from 70 year old vines and that helps with the production of good quality fruit and ensuring the much loved characteristics of Riesling are experienced when drinking Zesty.
We named our Riesling 'Zesty' because it has a real zip to it! This is a dry Riesling so you won't experience any sweetness and it does not take long for the aromatic profile of the wine to show itself. The Zesty element really comes from the citrus notes of the wine and the high acidity that the grapes produce but when that acidity is well integrated the results are fantastic.
Colour: Pale Lemon
Nose: Lime, Green apple, hints of jasmine and honey with a touch of petroleum
Palette: Zingy citrus fruit and fresh apple with a waxy mouthfeel
Pairing: Works very well with spicy food and poultry casseroles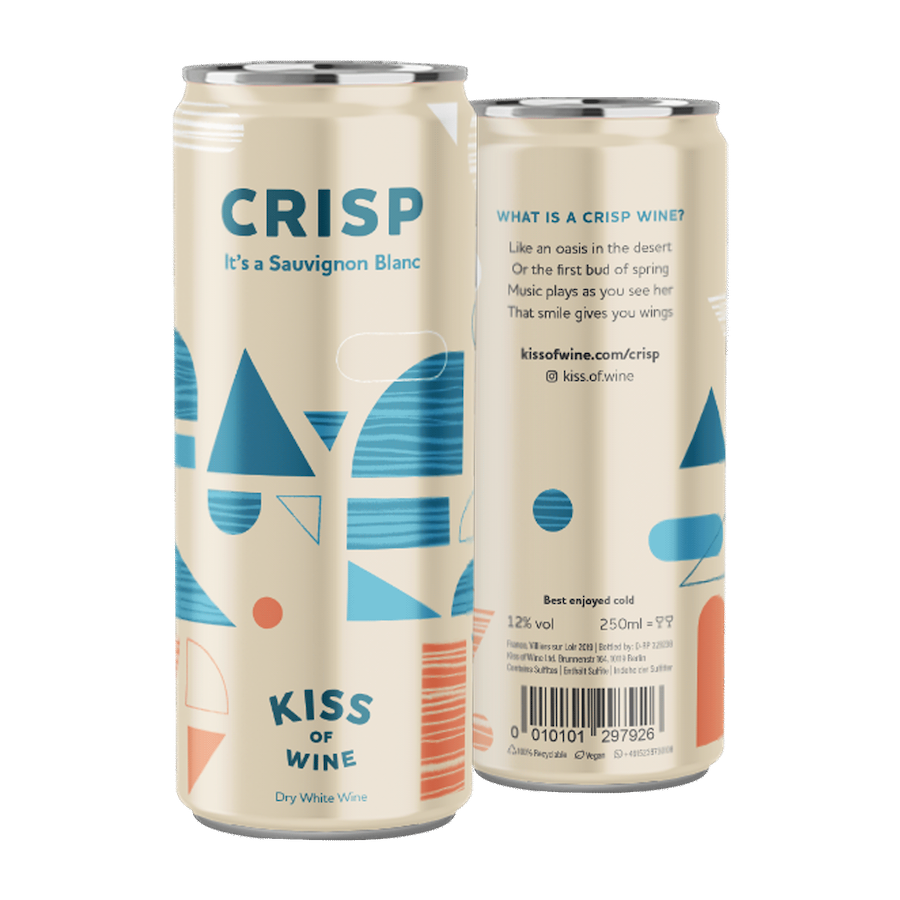 'Crisp' Sauvignon Blanc, Loire Valley, France
Crisp is also produced by Nicholas in the Loire Valley, who produces our Smooth Chardonnay. The Loire is the original home of Sauvignon Blanc so it makes sense for our Crisp wine to come from this region. Famous for Sancerre and Pouilly Fume wines, the Loire Valley produces some of the best Sauvignon Blanc wines available today.
Our Crisp wine is produced in a traditional way by Nicholas. The wine is fermented in steel vats and temperature controlled which helps to preserve the aromatic profile of the wine. The Sauvignon Blanc then spends some time on its 'Lees', which are the remains of yeast after fermentation and will add some texture and depth to the wine.
We named our Sauvignon Blanc 'Crisp' because of the freshness that this wine presents. The acidity in the wine is medium to high and ensures a clean, crisp finish which is softened by the excellent aromas and flavours that this wine offers. Crisp is an outstanding representation of Sauvignon Blanc and shows perfect grape typicity.
Colour: Pale Lemon
Nose: Green apple, lemon peel, gooseberry and grass
Palette: Fresh green fruit, citrus and slight touch of ripe white peach with a crisp finish
Pairing: Best with seafood like Oysters, Mussels or Prawns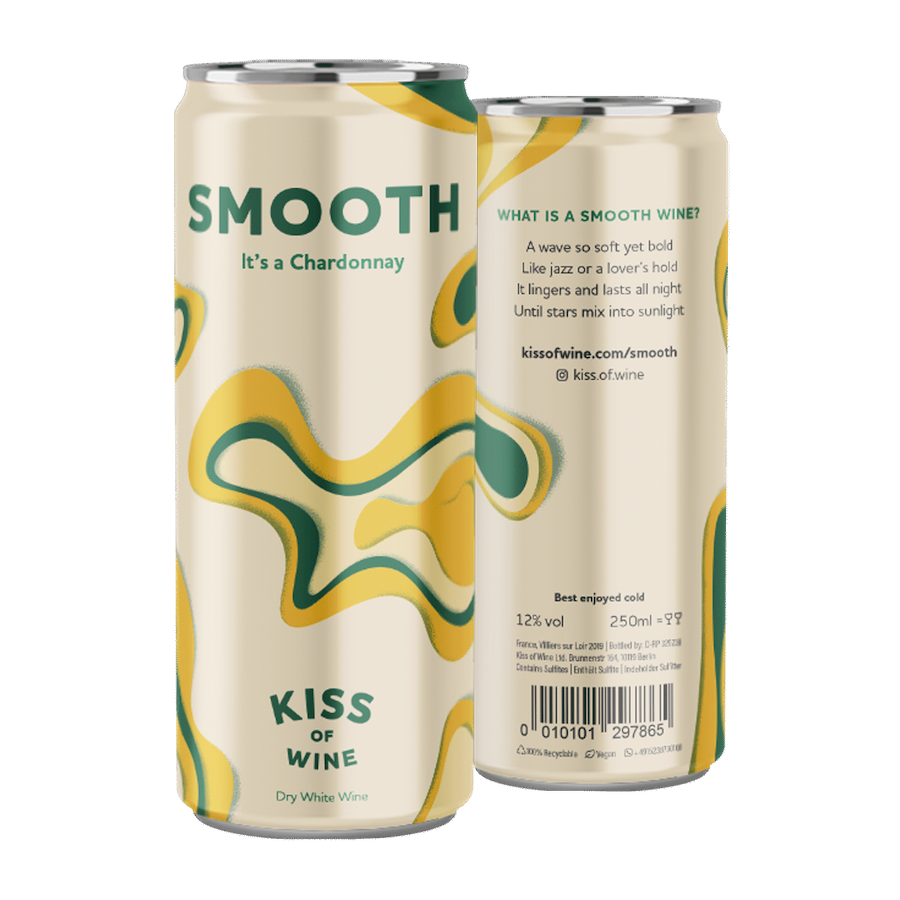 'SMOOTH' CHARDONNAY, LOIRE VALLEY, FRANCE
Smooth is made by Nicholas, who trained making wine in Sancerre and also studied packaging for wines in some detail, so he is the perfect person to make wine for cans. He is now growing grapes by 'raisonné' method, which means sustainable farming, and following the high standards of the Alliance Loire and cooperative, Les Vignerons du Vendômois.
The Chardonnay grapes in the Loire experience similar conditions to those in Burgundy and the fruit used in Nicholas' wines come from the 5 best terroirs within the the appellation. The vines are exposed to the rising sun, which benefits the grapes from early sunlight in the day. The plots are also located along the Loire River, which creates a microclimate perfect for grape growing.
We named our Chardonnay 'Smooth' because of how the soft, fresh fruit aromas and flavours beautifully integrate with the alcohol and acidity. The wine also experiences a small amount of skin contact, which gives a little more colour and texture to the wine so you should experience a fuller mouthfeel with this wine that also adds to Smooth nature of the wine.
Colour: Pale Lemon
Nose: Fresh green fruit such as apple and pear, notes of lemon and zest
Palette: Similar fresh green fruit and citrus to the nose with moderate, well balanced acidity
Pairing: Grilled white fish like Bream or Trout and mild white cheeses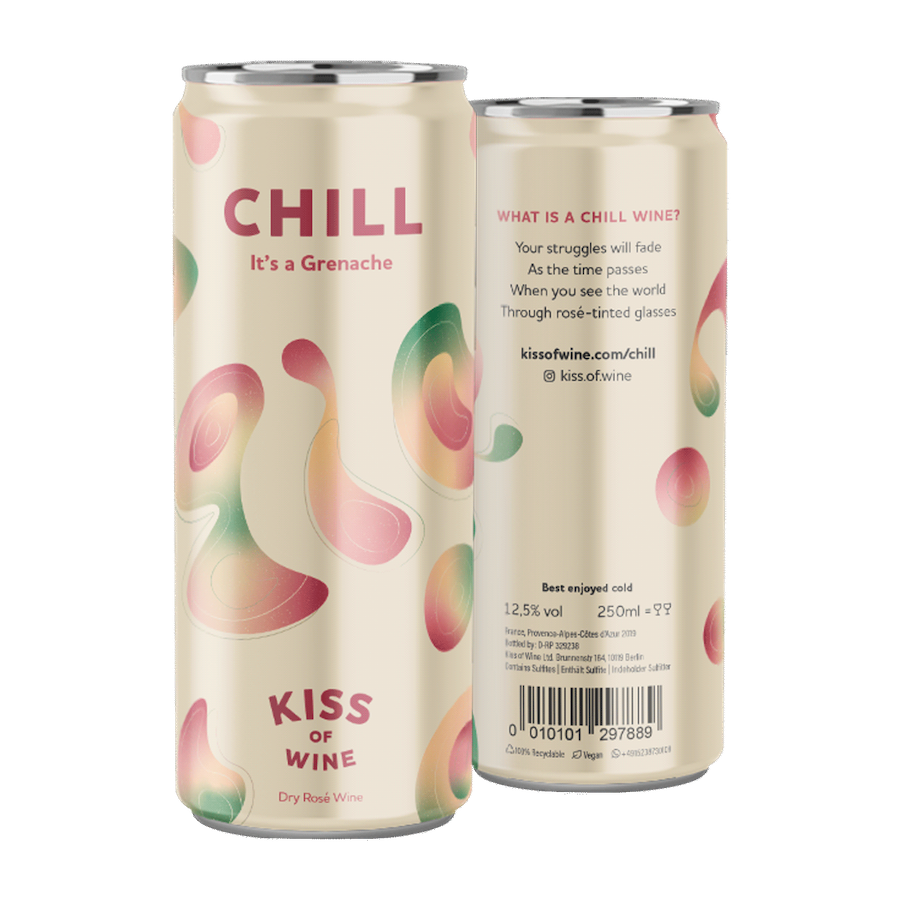 'CHILL' GRENACHE ROSÉ, PROVENCE, FRANCE
Our Rosé winemaker is Coltilde, who base is the home of rosé, Provence. The region is famed for some to biggest brands in rosé wine and now the style of wine that is produced here as become a brand in itself. Coltilde is part of a small cooperative with vineyards based in the foothills of the Sainte Victoire mountain and Mount Olympe.
To ensure the Grenache grapes produce a perfect rosé wine, harvest takes place at night where the temperatures are cooler, which helps preserve the fruit. The grapes are directly pressed with no skin contact and this is what gives the very light pale colour this rosé offers. 'Chill' is a classic example of the Provencal style of rosé the world loves.
We named our Grenache Rosé 'Chill' because this is all about summer drinking. Very light in body and colour, this pale pink rosé works well on its own, in the sun, with friends. An easy drinking wine with pleasant red fruit and floral aromas and flavours make 'Chill' are wine designed to do just that. Sit back, crack open a can and breathe…
Colour: Pale Pink
Nose: Pink grapefruit and citrus aromas with some rose petal floral notes
Palette: Light red fruits like strawberry and cherry with a creaminess on the finish
Pairing: Grilled Prawns or Langoustine
'WILD' DOLCETTO, PIEMONTE, ITALY
Corado is a true grape grower and farmer with superb artisan winemaking abilities. His vineyards are in the prestigious region of Piemonte famed for Barolo and Barbaresco that both utilise the regions most popular grape, Nebbiolo. Corado comes from a family of wine makers which is in its fourth generation and is the producer behind 'Wild'.
The Dolcetto used to produce 'Wild' comes from the Langhe region within Piemonte, which is the more southerly area. The name Dolcetto translates as 'little sweet one', but the wine is not a sweet wine, instead offers wonderful black fruit aromas and flavours that do replicate little sweet blackberries or blackcurrants.
We named our Dolcetto 'Wild' because the first aromas you encounter are that of a wild garden. The focus is to produce a wine that works with the true characteristics of Dolcetto and not interfere with what this grape can offer. When produced well Dolcetto has lots of depth and is one of the best wines for pairing with food.
Colour: Medium Purple
Nose: Ripe black fruit such as blackberry and blackcurrants with a hint of violet
Palette: Concentrated black cherries and plums with touches of cocoa and pepper
Pairing: Rich dark meats, stews and roasted tomatoes or aubergine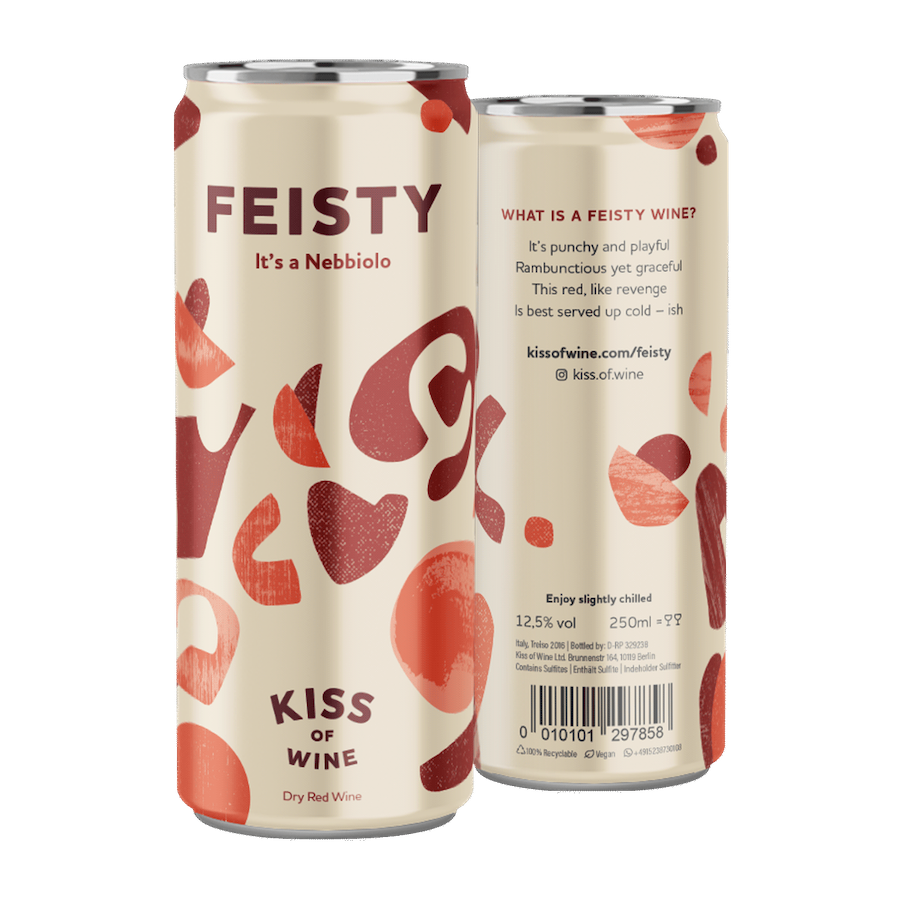 'Feisty' Nebbiolo, Piemonte, Italy
Corado is behind one of our most popular wines, 'Feisty'. His family were one of the true pioneers of Barberesco, which is wine famed throughout the world and his wines have been served in many Michelin starred restaurants. The real secret behind producing such outstanding wines though is staying humble and true to your heritage.
Nebbiolo is an interesting variety which can divide opinion. Barolo and Barberesco are wines that age very well and improve greatly over time. They tend to be full bodied although light in colour and this can be deceptive. Whilst the colour is lighter, it has a large tannic structure and this needs to be carefully managed when produced, which Corado is a master.
We named our Nebbiolo 'Feisty' because like a true Nebbiolo it has that grip, that punch but it also has finesse. Very elegant in colour you can expect something that is lighter than most Nebbiolo wines but with the fruit coming from 2 of the most prestigious DOC and DOCG producing regions, you not short of flavours.
Colour: Light Ruby / Slightly Garnet
Nose: Ripe red cherries and plums, floral rose notes with touches of anise
Palette: Tannins with grip but ripe and well integrated with excellent rich fruit and spice
Pairing: Better with fatty foods like pork or big cheeses that work with the tannins
Wines are generally labelled and named by producer and area. However, if you are unfamiliar with the area or producer, it can be hard to know what you're buying.

We wanted to make it easier to know what you're getting, by naming the wines according to their style. Calling a spade a spade, so to speak.
Not all Rieslings will be predominately 'zesty' with great citrus notes on the finish, but our Riesling is, so we called it Zesty.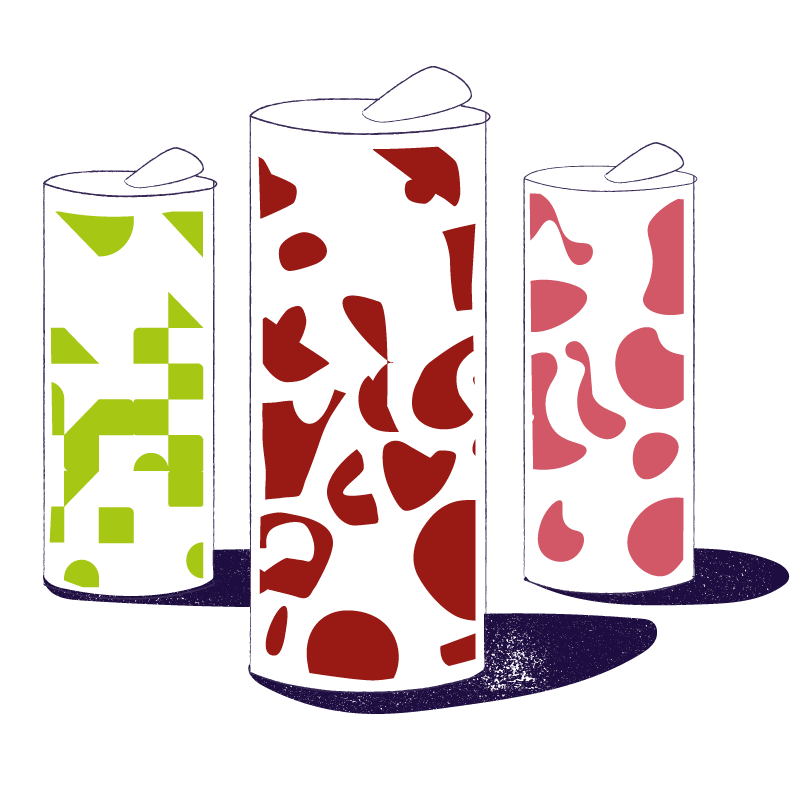 We find small and medium scale wine growers, who have a long history of growing and making high quality wine.

Small wine makers generally create a wide range of wines, from their simple entry level wines, for everyday enjoyment. To the bigger wines, for special occasions, that are made for storing and maturing.
Their entry level wines, are usually stored in steel tanks, or with minimum oak barrel exposure. These wines are made for immediate enjoyment, and score high on acidity and freshness.